When things go wrong
We're dedicated to ensuring your home is kept up to the best possible standard. But we know things can go wrong from time to time.  
Our repairs and maintenance team are on hand to fix things, service heating systems, carry out regular stock conditions surveys and make planned improvements to our homes.  
All work is carried out by experienced and qualified tradespeople – and they'll always carry the correct identification. If you're ever worried about someone calling at your home, call us on 0800 027 2057 and we'll do the necessary checks.  
You can report a repair using your MyAcis portal, the form on this page, or by calling us.
Most of the time if something goes wrong with your home, it's our job to put it right. We fix problems relating to plumbing, electrics, joinery, roofs and plasterwork for example. 
We will aim to complete all repairs 'right first time' and within our target times which all depend on its urgency. If it's an emergency, we'll be with you in 24 hours - or four hours in some cases. We aim to get problems fixed as soon as possible. 
As a commitment to you, you may also be eligible for compensation if we fail to respond to your problems within certain timescales or if we have to re-arrange an appointment within 24 hours.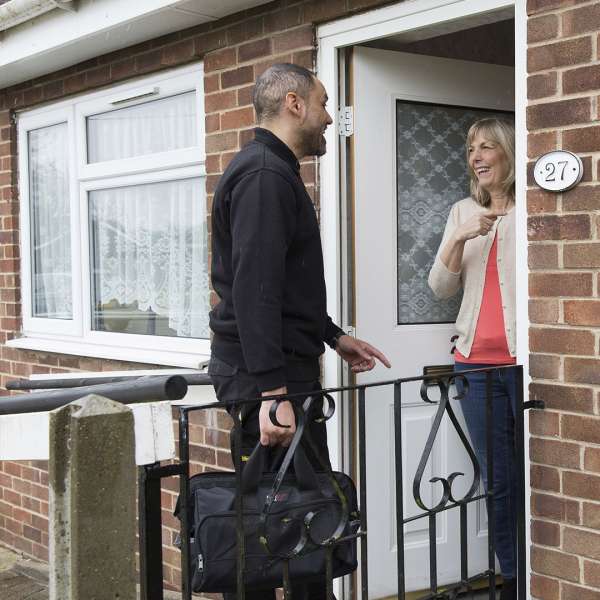 You also have some responsibilities. The repairs below are not covered by us.  
Any repair which is the result of the actions, inactions, negligence or abuse by you, a member of your household or your visitors 
Electrical faults caused by your own appliances 
Your own appliances, alterations, fixtures, fittings or improvements (unless formally adopted by us) 
Repairs to, or replacements of, smoke or carbon monoxide alarms not provided by us 
Repairs to burglar alarms not provided by us 
Replacement keys, including house and window keys (including when stolen/lost) 
All internal decoration 
Minor cracks or superficial damage to interior surfaces such as plaster work 
TV aerials or satellite dishes (other than communal sets provided by us) 
Window cleaning (unless covered by a service charge) 
Clothes post or rotary driers (maintenance and new installations apart from communal areas) 
Cleaning or sweeping of chimneys, flues and frets 
Easing of doors to fit carpets 
Maintenance and replacement of all floor coverings, including any provided by us to kitchen and bathroom 
Boarding up and/or glazing repairs, as a result of misuse 
Total loss of power due to no credit on token meter 
Secondary paths (other than those that serve as front or rear entrances to the property) 
Locks, padlocks and latches to sheds or outhouse doors (not adopted by us) 
Plugs and chains to sanitary ware and kitchen sinks 
Replacement/repair of toilet seats or shower curtains 
Cleaning and descaling of sanitary ware 
Treatment and removal of mould/mildew 
Pest control 
Bleeding of radiators 
Additional security measures, such as the upgrading of locks 
Blocked sinks and drains other than when caused by structural failure 
Replacement of non-communal light bulbs (including fluorescent strip lights and starters) 
Garden maintenance (including hedges and trees) other than where a charge is paid for the service 
Picture rails, hangers and shelves 
Repair and maintenance of fencing (not adopted by us) 
Damage to fixtures and fittings which could be funded from the customers' own home contents insurance cover 
Plumbing of automatic washing machines and dishwashers 
Total loss of water 
Loss of property security 
Burst water main (uncontainable leak) 
Internal flooding 
Loss of electrics 
Blocked toilet or soil pipe 
Severe storm damage 
Faults to lighting in bathrooms (excluding failed light bulbs) 
Blocked flue where this is the only form of heating 
Blocked main foul drains (where we have responsibility) 
Heating loss between 1 November and 30 April 
Hot water loss between 1 November and 30 April 
Total failure of carbon monoxide or smoke detection systems 
Offensive/racist graffiti 
Insecure external door, lock or window to ground floor 
Faulty garage door lock (if car locked in garage) 
Faulty shower (if only form of bathing) 
The aim of an emergency repair is to attend and make safe. After we have made safe, we may make further arrangements to return to complete the repair within the appropriate timescale. All suspected gas leaks must be reported in the first instance to National Grid Gas Emergencies on 0800 111 999 (this is a 24-hour emergency line). 
Minor plumbing leaks 
Minor electrical faults 
Blocked sinks 
Damage to handrails 
Heating fault or breakdown between 1 May and 31 October 
Hot water faults or breakdown between 1 May and 31 October 
Minor electrical faults (lighting and power sockets) 
Partial loss of water supply 
Door/lock fault to garage 
Leaking roof 
Intermittent carbon monoxide or smoke detection system faults 
Insecure external lock or window above ground floor 
Damage to stair treads or handrails/banisters 
Plasterwork repairs 
Tiling problems 
Missing roof tiles 
General joinery repairs 
Repairs to internal walls, floors, ceilings and doors 
Repairs to kitchen fittings 
Dripping/leaking taps or shower units 
Repairs to tiling on kitchen and bathroom walls 
Defective cistern or overflow 
General roof repairs (slates/tiles) 
Non-offensive graffiti 
Faulty shower (if alternative form of bathing available) 
Faulty extractor fan (kitchen/bathroom) 
Defective flooring (possible upgrade if safety risk exists) 
Garage roof leaking/damaged 
Repointing of brickwork 
Fencing, wall, path and gate repairs 
Window frame and door replacement 
Repairs to chimney stacks 
Minor structural remedial works. 
Programmed gutter cleaning
Fencing
If your fencing, has been installed by us, it's our job to fix it. If it's been installed by you, it's your responsibility.  
We have two approaches to fixing our fences – through our repairs service and through our planned maintenance programme.  
Our approach will depend on an assessment of each situation, such as the location, height, length and type of the fencing.  
As a rule, if your fencing is no longer than four metres, we will fix it as part of our repairs service and take anything up to 90 days to complete. If it's over four metres, it will fall under our planned maintenance programme and work will be scheduled in by our team.  
Our boundary treatment works excludes gates and frames, so any repairs would be raised separately. 
When repairing or installing new fencing, the new or repaired fencing may be different to what is there now or has been there previously. 
If you wish to carry out works on your own behalf and cost, you must request permission and receive approval from us beforehand. See our making improvements page for more details.