Always looking to improve
If you have something to share – good or bad – or suggestions for how we can do better, we'd love to hear it. 
We want to recognise the things that we do well and try to put right and learn from things that we don't do well.
Compliments
Have you spoken to a member of our team who went the extra mile for you? Or has one of engineers saved the day? Would you like to say thank you? We welcome compliments from you. We always make sure these are passed on to the relevant team or individual – they might even get a voucher as a thank you.
You can call us up during office hours on 0800 027 2057 or let us know by emailing info@acisgroup.co.uk. You can also get in touch via our social media channels. Or you can provide us with feedback or share your suggestion for improvement by completing the online form below.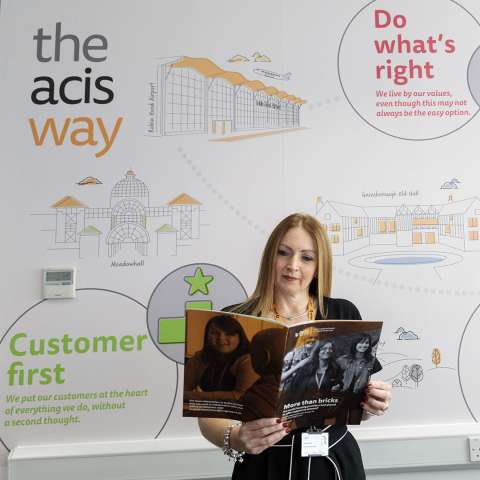 Complaints
If you feel you need to make a formal complaint, we have a process to go through. We will always investigate in a fair and honest way. It's important you give us as much detail as possible to help us get to the bottom of things, including what you are seeking to resolve the situation.
We also have a number of other ways you can get further involved in having a say about how we deliver our services through our Your Voice service.
Remember, complaints are when you tell us you are dissatisfied with the quality of our service, our behaviour or something we haven't done.
You can get in touch with us to tell us you're unhappy by phone, in person, by email, through our Live Chat, via MyAcis and let us know you want to make a complaint. 
Frequently asked questions
We do not consider the following as a complaint:
A request for service
Reports of antisocial behaviour
Issues over six months old that have not been previously raised unless there are exceptional circumstances
Issues that are not our responsibility
Issues that have already been through our complaints process
Matters that should be referred to insurers
Hopefully, any issue you come to us with is straightforward and we can quickly resolve it.
If your complaint is more complex, someone from our team will be in touch within two working days to find out more information and what action you would like to resolve the issue. We'll also usually give you details of the person who will be investigating your complaint. We prefer to contact you by phone so we can get the full details but if you prefer, we can contact you by email or letter.
Once we've been able to investigate the issue, we'll get back to you with our findings and then confirm these in writing. We aim to get back to you within ten working days of when we receive your initial complaint. Sometimes it will take longer than ten days, but we will agree with you a timescale if we believe it will take longer than this.
There are a number of things we can do at the outcome of a complaint including providing you with:
Our investigation findings and the reason(s) why the complaint is upheld or not including the conclusion of the investigation
An apology if we got something wrong
Next steps if needed (and associated timescales)
Any longer-term actions we might take to help prevent a similar kind of complaint from occurring again. Examples of actions might include remedial action, policy review, training
If you remain unsatisfied with our details at this stage, you can ask for a senior manager to have another look at the complaint. We can only do this if some specific criteria are met.
If you remain unsatisfied, you may be able to escalate a complaint to the next phase. But it will need to be because of one of these things:
The investigation and response were factually inaccurate (details of these inaccuracies would be needed)
The response did not address the complaint
Important pertinent information was not considered at this stage
We did not complete our actions agreed
You can get in touch with the Housing Ombudsman too at any time - regardless of if you have a complaint or not. We've  self-assessed against the Housing Ombudsman's complaint handling code too. 
You can view the Housing Ombudsman' complaint handling code here.
If it has not been possible to agree on a resolution at any stage of the complaints process, we will consider using an independent organisation to mediate between the two parties, though this will not be appropriate for all circumstances.